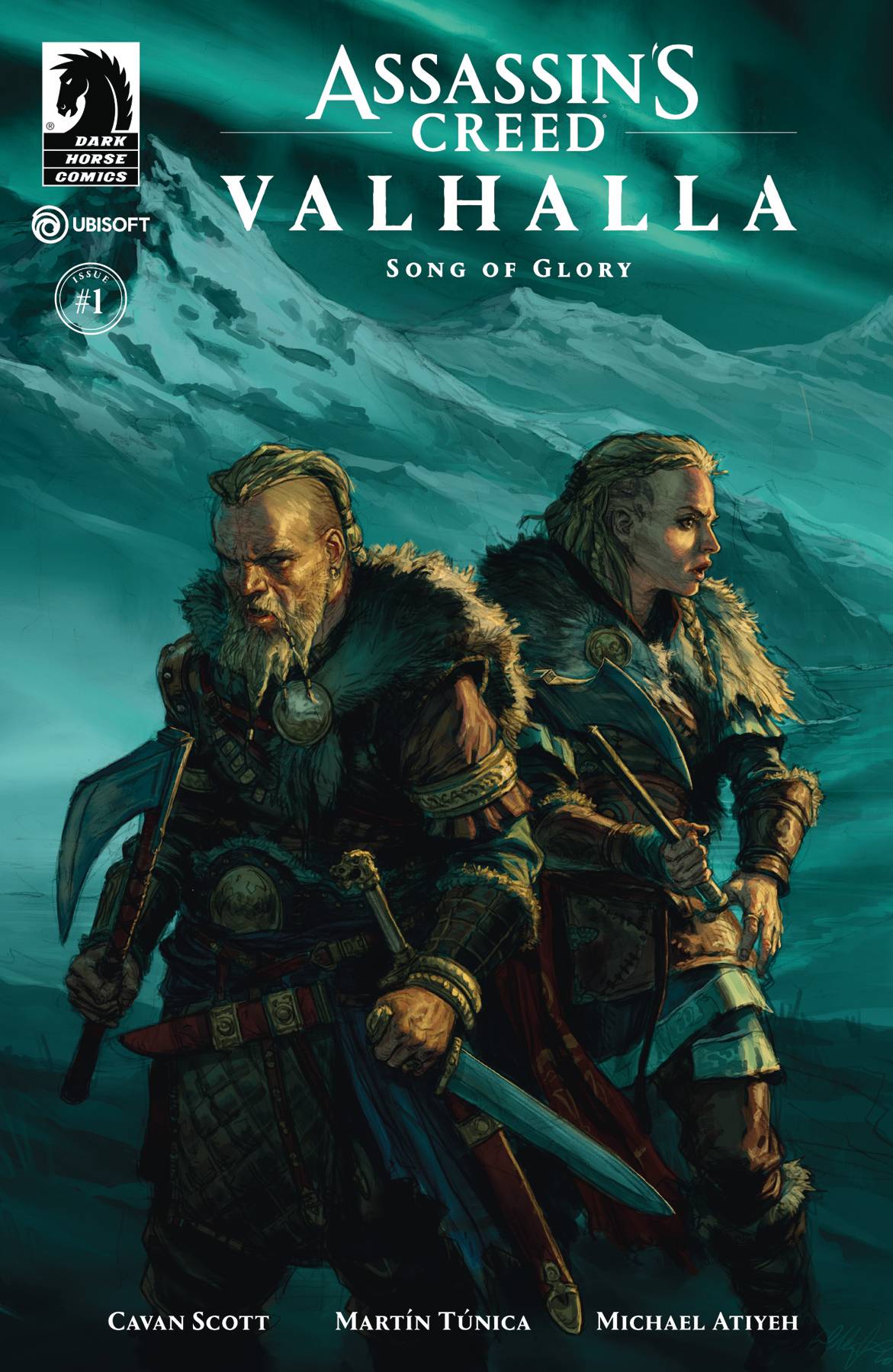 Assassin's Creed Valhalla Song of Glory is the kind of book that makes you want to find all the other work the creators have ever done. It's a sharp, well written opening salvo with amazing art by Martin Tunica. The art recalls the very best elements of Crossgen with the right balance of comic action and swashbuckling Viking grandeur.
Cavan Scott is the kind of writer that portrays strong characterization through action. His work recalls the best work of Chuck Dixon as he's not afraid to leap into action but doesn't forget to make the characters interesting and distinct as the action unfolds.
The action unfolds with a village at the edge of two Viking kingdoms being attacked and its people slaughtered. The royal guard of Styrbjorn's Kingdom including his daughter Eivor watch the destruction and wish to save the people. But Dug points out to her and Tora that the village is outside their territory. Dug formulates an elaborate strategy to maintain diplomacy but Eivor fails to listen and instead dives into battle against Kjotve's forces.
As the battle erupts Sigurd visits the blacksmith Tekin hoping for a worthy weapon, but instead is ambushed by his family. Sigurd makes quick work of Tekin's team and he and Knud exact from them a promise of leading them to the richest man alive.
Meanwhile Eivor is struck by warrior who recounts her origin, recalling Kjotve viciously killed her actual father before Styrbjorn took her in. Eivor responds by cutting him at the knees before helping Dug end the battle in victory. Feeling justified after saving its people, Eivor claims the village as theirs and kills the angry village elder.
Eivor meets Kjotve's mystical slave Gull and brings her back to Stavanger. Here, her father the king points out that Eivor's actions have given Kjotve cause to attack them and rain death upon their land.

Cavan Scott understands these characters and this world and weaves together action and motivation perfectly. The art has just the right amount of action and blood for a grand swords and sorcery story. The characters reveal themselves and their motivations in a way that fits well within the narrative, but also is welcoming to newer readers. The colors by Michael Atiyeh are perfect, emphasizing stark details against a traditional backdrop. These are creators who understand how to tell a great story and how to draw readers back to experience characters and conflicts which should seem familiar but instead feel fresh and exciting.
Writing: 4.5 of 5 stars
Art: 4.4 of 5 stars
Colors: 4.6 of 5 stars
Overall: 4.5 of 5 stars
Writing: Cavan Scott
Art: Martin Tunica
Colors: Michael Atiyeh
Publisher: Dark Horse Comics