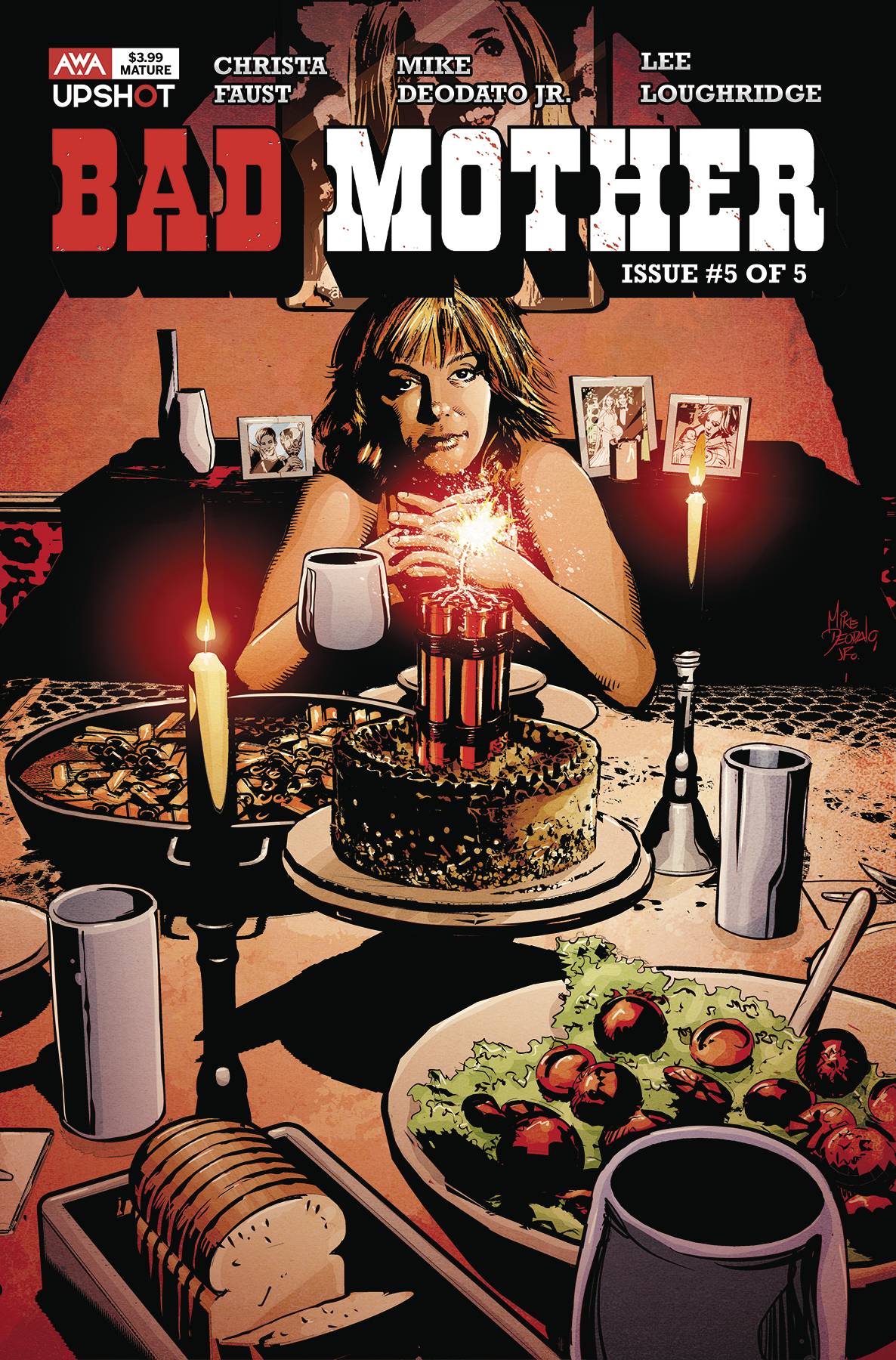 The soccer mom turned into revenge expert story comes to a close this week. But will it end with happy families?
April Walters daughter had been kidnapped. Showing untold reserves of sneakiness, cleverness and pretty much nerves of steel, April has kidnapped the son of the person holding Tay, her daughter. Now the pair meet, with their respective captured kids in tow. But with traps layered upon traps, does April have the smarts and courage to risk it all?
Christa Faust concludes her crime come mystery book with a style that feels pretty much balls to the wall. The quirk of the protagonist gaining the skills, resolve and the such to take on the bad guys is a trait that is well used in any number of stories of this ilk. Here, Faust downplays this element well, instead going for the adage of "hell hath no fury", at least to a certain extent. The trap scenario plays out well with jeopardy turning into double jeopardy, with the conclusion coming in a chaotic fashion.
Mike Deodato Jr.'s work on this series has been transformative to say the least. It feels that Deodato Jr. has recently moved into the realms of heavier lines, away from his previous cheesecake style. Maybe this is due in part to the type of books he has worked on, Berserker Unbound and Savage Avengers to name a couple. Added to his own style, there are touches Michael Gaydos thrown in for good measure. The result is a book that is steeped in darkness, like a shroud that pervades each of the characters lives. Lee Roughridge adds to the overall feeling of encroaching fear that seems too seep from April. Roughridge takes the idea of gloom and shadows to the extreme with outstanding results. With no letterer credited on my preview copy, I am left to assume that Dezi Sienty, letterer from the second issue remain on the team. Whomever provides the letters does a great job with a font and placement that adds to the tension.
This has been a fun read; watching April come into her own to protect her brood, despite the given quirks in that type of story has been an interesting to see. AWA, with their range of distinct and diverse books are certainly making a strong start to their relatively short publishing history.
Writing – 5 Stars
Art – 5 Stars
Colors – 5 Stars
Overall – 5 Stars
Written by; Christa Faust
Art by; Mike Deodato Jr.
Colors by; Lee Roughridge
Letters by; Dezi Sienty(?)
Published by; Artists Writers & Artisans Inc. (AWA)