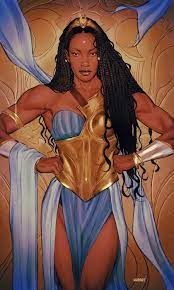 DC finally outdid themselves after almost two years of forcing readers to wait for Nubia to take her rightful place as the new Wonder Woman … readers will have to wait a little longer. But I cannot think of a better way to celebrate Wonder Woman Day than having Nubia be the only number one that DC put on shelves for this week's roundup. Williams primarily produces readers with a tight script for readers to follow along with featuring sights of the Themyscirian landscape as well as glaring precursors to the upcoming "Trial of The Amazons" (which just might be the event that leads to Nubia finally taking her a much coveted position in the Trinity).
Ayala's imprint is obvious, as her time helming "X-Force" is heavily felt from page one, as Krakoa doesn't appear to be the only place in the comic book world with resurrection pools.
With the stiff competition of Nubia's appearance in this week's "Black Manta" courtesy of De Landro"s lead, high credit needs to be given to Martinez for drawing Phillipus in a highly effeminate manner that has not been seen in previous iterations of the character. Her design with 'locs on her head instead of the tapered look featured in the live action Snyder-cut should be a trendsetter for future representations of one of the few Amazonians who can be remembered by name. And Lopez delivered some strong colors and shading, but in future issues I believe it would be best if she laid on heavier inks – such as in the bottom panel of page 18, completely focused on Nubia's gorgeous grill. Color and line work in conjunction like that belongs on posters, and with memorabilia tending to sell more than the actual books, if Lopez & Martinez continue to deliever darker work akin to that page and not the more brighter tones and soft linework used throughout a majority of this premiere issue, then Nubia can take the opportunity to be more than just a blip on the DCU map. My first real venture into Wonder Woman lore was through Azzarello's New 52 run and seeing return characters from that series survive reboot after reboot was a celebratory experience akin to a family reunion, which made the spread on the banquet hall scene all that more powerful.
The nightmare sequence splash was a little much though. Since so much space was dedicated to that scene, I do not understand why a splash couldn't have been dedicated to the Contest of Champions. The Contest appeared to be an afterthought in this story and that can catch readers off guard , especially given the importance of the concept. This is supposed to be a tale of the Amazons – the lack of gore in this book and the weight of the words can be much, especially for those who are just picking up a book in the Wonder Woman universe.
The next issues should feature heavier action sequences with dialogue mixed in, instead of these two core concepts being divided. If that can be successfully executed then "Nubia and The Amazons" can go down as a touchstone for the future of DC, instead of a tokenized mini-series only put out seemingly to appeal to marginalized readers.
Score : 3/5
Written by: Vita Ayala, Stephanie Williams
Art by: Alitha Martinez