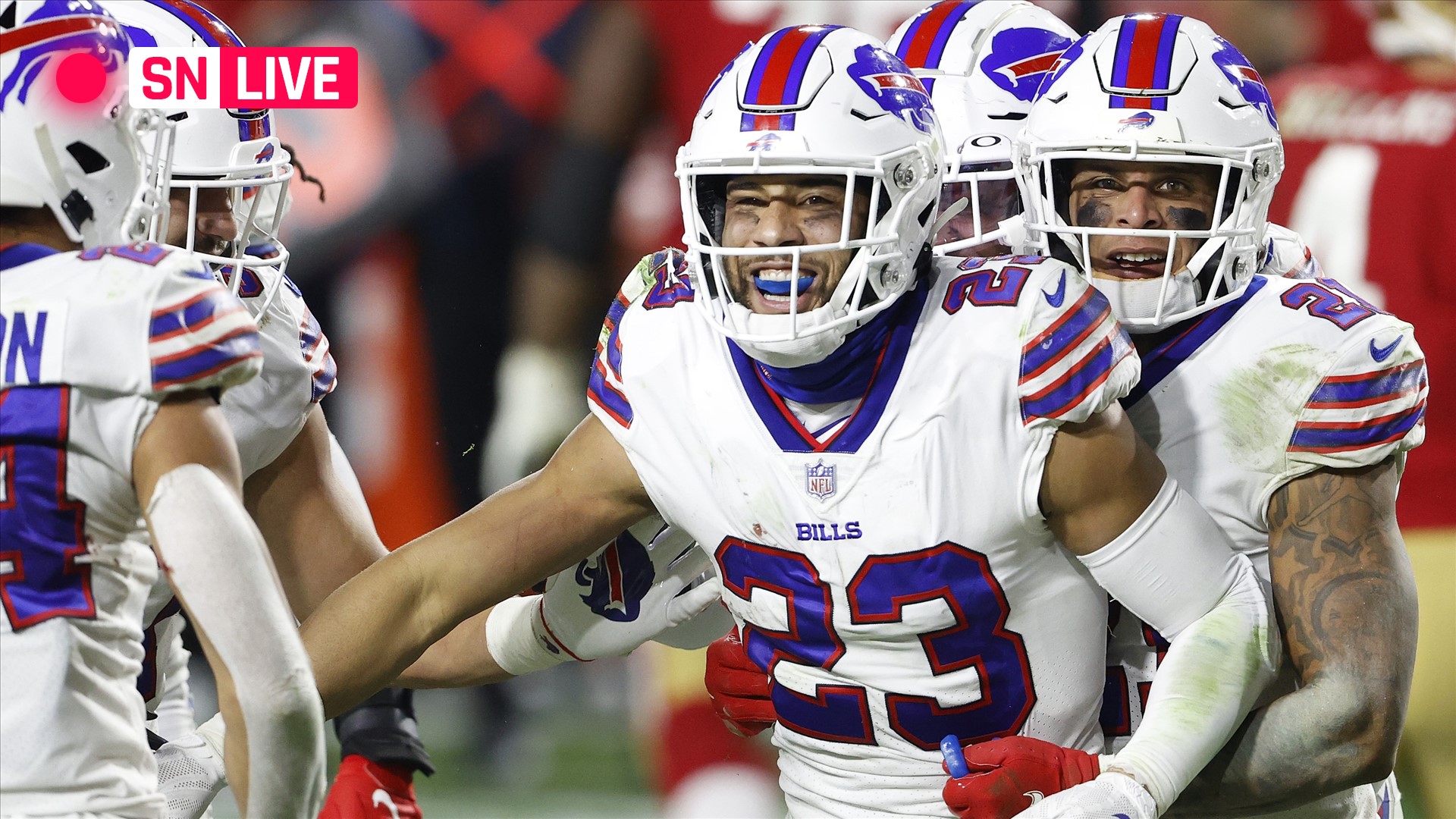 The 49ers (5-6) still have a path to the NFL playoffs, but they'll need a win Monday night against a tough Bills team to keep their pursuit of that destination realistic.
It's a testament to San Francisco's coaching staff that the team remains in the hunt without first-choice quarterback Jimmy Garoppolo (ankle), star tight end George Kittle (foot) and second-year defensive end Nick Bosa (ACL). Kyle Shanahan's staff has maintained an above-average defense and kept its Nick Mullens-led offense from complete self-destruction. Last weekend, the team beat the division rival Rams.
But the Bills (8-3) hold one of the most comprehensive set of scoring threats the 49ers will encounter through the remainder of the season. Josh Allen's dual-threat ability and connection with offseason acquisition Stefon Diggs could threaten to turn Monday's contest into a shootout San Francisco can't handle.
Sporting News is tracking live scoring updates and highlights from 49ers vs. Bills on "Monday Night Football." Follow for complete results from the NFL Week 13 game.
MORE: Watch 49ers vs. Bills live with fuboTV (7-day free trial)
49ers vs. Bills score
| | | | | | |
| --- | --- | --- | --- | --- | --- |
| | Q1 | Q2 | Q3 | Q4 | Total |
| 49ers | 7 | 0 | 10 | 7 | 24 |
| Bills | 0 | 17 | 10 | 7 | 34 |
49ers vs. Bills live updates, highlights from 'Monday Night Football'
11:08 p.m. Samuel delivers a 23-yard catch and run, but with 2:03 remaining, it's too late for such a play to matter.
11:01 p.m.: Buffalo punts with 3:44 left.
11 p.m.: Allen rushes for six yards up the middle. The Bills are in clock-eating mode — less than five minutes remain on the clock.
10:54 p.m.: INTERCEPTION. Tre'Davious White ices the game with a pick at the edge of the end zone.
10:52 p.m.: The ball is indeed brought back to the 1.
10:49 p.m.: A catch by Kendrick Bourne was ruled a touchdown on the field, but it appears a review will mark him at the 1.
10:47 p.m.: Buffalo is sitting back in zone right now trying to force San Francisco to run down the clock. So while the 49ers are now past midfield, a drive of at least eight plays isn't the worst thing for the Bills.
10:42 p.m.: TOUCHDOWN, Bills. Gabriel Davis is left completely uncovered. Allen doesn't miss him. 34-17, Buffalo.
10:40 p.m.: Two big first downs for Diggs. He has 10 catches for 92 yards.
10:35 p.m.: The 49ers finally put pressure on Allen and almost force a turnover in the process. Allen drops the ball but Buffalo recovers the fumble.
End of third quarter: Bills 27, 49ers 17
10:30 p.m.: TOUCHDOWN, 49ers. Deebo Samuel finally gets involved to move the ball downfield. Kyle Juszczyk adds the finishing touch to get the 49ers back in the game. 27-17, Buffalo.
10:21 p.m.: FIELD GOAL, Bills. The lead is up to 17 with that kick. 27-10, Buffalo.
10:16 p.m.: INTERCEPTION. Micah Hyde makes a heads-up snag of a deflected pass, then takes the pick inside the 10.
10:12 p.m.: TOUCHDOWN, Bills. Isaiah McKenzie runs wide open across the formation. Allen is at 301 passing yards and three touchdowns tonight. 24-10, Buffalo.
10:10 p.m.: Allen sells a roughing the passer call to perfection.
10:06 p.m.: Allen connects with Diggs for a first down. The play gives Diggs 1,000 receiving yards this season.
9:57 p.m.: FIELD GOAL, 49ers. The Coleman play kept the team from extending its drive, but it manages to pull within one possession of Buffalo with the help of kicker Robbie Gould. 17-10, Buffalo.
9:54 p.m.: Tevin Coleman is dropped for a nine-yard loss on a toss play. It's rare for a run to be that negative.
9:49 p.m.: The second half starts with a touchback. 49ers have the ball.
9:42 p.m.: Some halftime stats while we're waiting: Josh Allen threw for 236 yards and two scores in the first two quarters, and Cole Beasley racked up 113 of those yards through the air. Both teams were denied on fourth-and-goal opportunities. The Bills' defense stepped up in the second quarter, forcing a pair of punts while keeping San Francisco off the scoreboard.
Halftime: Bills 17, 49ers 7
9:35 p.m.: FIELD GOAL, Bills. Some separation for Buffalo to cap a fantastic quarter. 17-7, Buffalo.
9:34 p.m.: Allen is dealing right now. He connects with Beasley to move to the edge of field goal range.
9:30 p.m.: The 49ers stall and kick the ball to the Bills with 1:12 left in the half.
9:24 p.m.: Two-minute warning. San Francisco is at midfield and has enough time to stage a tying drive to close the second quarter if it keeps moving the ball.
9:18 p.m.: TOUCHDOWN, Bills. Dawson Knox dives across the goal line to give Buffalo the lead with 2:41 left in the half. 14-7, Buffalo.
9:16 p.m.: Beasley is up to 86 receiving yards in the first half.
9:12 p.m.: Richard Sherman commits an illegal contact infraction trying to keep up with Diggs that wipes out a 49ers interception. The Bills are at midfield.
9:06 p.m.: The 49ers punt.
8:58 p.m.: TOUCHDOWN, Bills. Beasley settles into an open pocket of space just past the goal line and Allen hits him before the coverage can recover. 7-7.
8:57 p.m.: Buffalo has another first-and-goal. The last time the Bills were inside the 10, they turned the ball over on downs.
End of first quarter: 49ers 7, Bills 0
8:47 p.m.: TOUCHDOWN, 49ers. Aiyuk breaks the tie. 7-0, San Francisco.
8:45 p.m.: FUMBLE. Zack Moss coughs up the ball inside his own 5. The 49ers recover.
8:44 p.m.: The Bills come up with a stop of their own! San Francisco's fourth-and-goal rush attempt from the 1 is short.
8:38 p.m.: Rookie receiver Brandon Aiyuk makes a juggling catch inside the Buffalo 15.
8:37 p.m.: Nick Mullens finds Jordan Reed on a deep post route after a couple of nice runs from Raheem Mostert. The 49ers are in position to take the lead.
8:34 p.m.: A pass interference call on Bills defensive back Levi Wallace advances the 49ers beyond their own 10.
8:30 p.m.: Stopped! Allen throws incomplete on fourth-and-goal. The 49ers take over.
8:29 p.m.: Singletary returns for third-and-goal as Allen spins the ball to Diggs out wide. Diggs is tackled before the goal line.
8:24 p.m.: Beasley is back in the ballgame. Singletary is jogging on the sideline.
8:23 p.m.: Beasley and running back Devin Singletary have both checked out with injuries. They're being evaluated.
8:18 p.m.: Cole Beasley catches a screen and weaves for a first down. Then he goes long and catches a ball up the seam for 31 yards.
8:15 p.m.: We're underway. The Bills field the opening kickoff.
49ers vs. Bills start time
Date: Monday, Dec. 7
Kickoff: 8:15 p.m. ET
TV channel (national): ESPN, ABC
Live stream: ESPN app, fuboTV
​49ers vs. Bills is scheduled to start at 8:15 p.m. ET, the normal "Monday Night Football" time, but it is not the only game on Monday. Washington at Steelers preceded this game, beginning at 5 p.m. ET on Fox.
'Monday Night Football' schedule 2020
| | | |
| --- | --- | --- |
| Week 1 | Sept. 14 | Steelers 26, Giants 16 |
| Week 1 | Sept. 14 | Titans 16, Broncos 14 |
| Week 2 | Sept. 21 | Raiders 34, Saints 24 |
| Week 3 | Sept. 28 | Chiefs 34, Ravens 20 |
| Week 4 | Oct. 5 | Packers 30, Falcons 16 |
| Week 5 | Oct. 12 | Saints 30, Chargers 27 |
| Week 6 | Oct. 19 | Cardinals 38, Cowboys 10 |
| Week 7 | Oct. 26 | Rams 24, Bears 10 |
| Week 8 | Nov. 2 | Buccaneers 25, Giants 23 |
| Week 9 | Nov. 9 | Patriots 30, Jets 27 |
| Week 10 | Nov. 16 | Vikings 19, Bears 13 |
| Week 11 | Nov. 23 | Rams 27, Buccaneers 24 |
| Week 12 | Nov. 30 | Seahawks 23, Eagles 17 |
| Week 13 | Dec. 7 | San Francisco 49ers vs. Buffalo Bills |
| Week 14 | Dec. 14 | Cleveland Browns vs. Baltimore Ravens |
| Week 15 | Dec. 21 | Cincinnati Bengals vs. Pittsburgh Steelers |
| Week 16 | Dec. 28 | New England Patriots vs. Buffalo Bills |