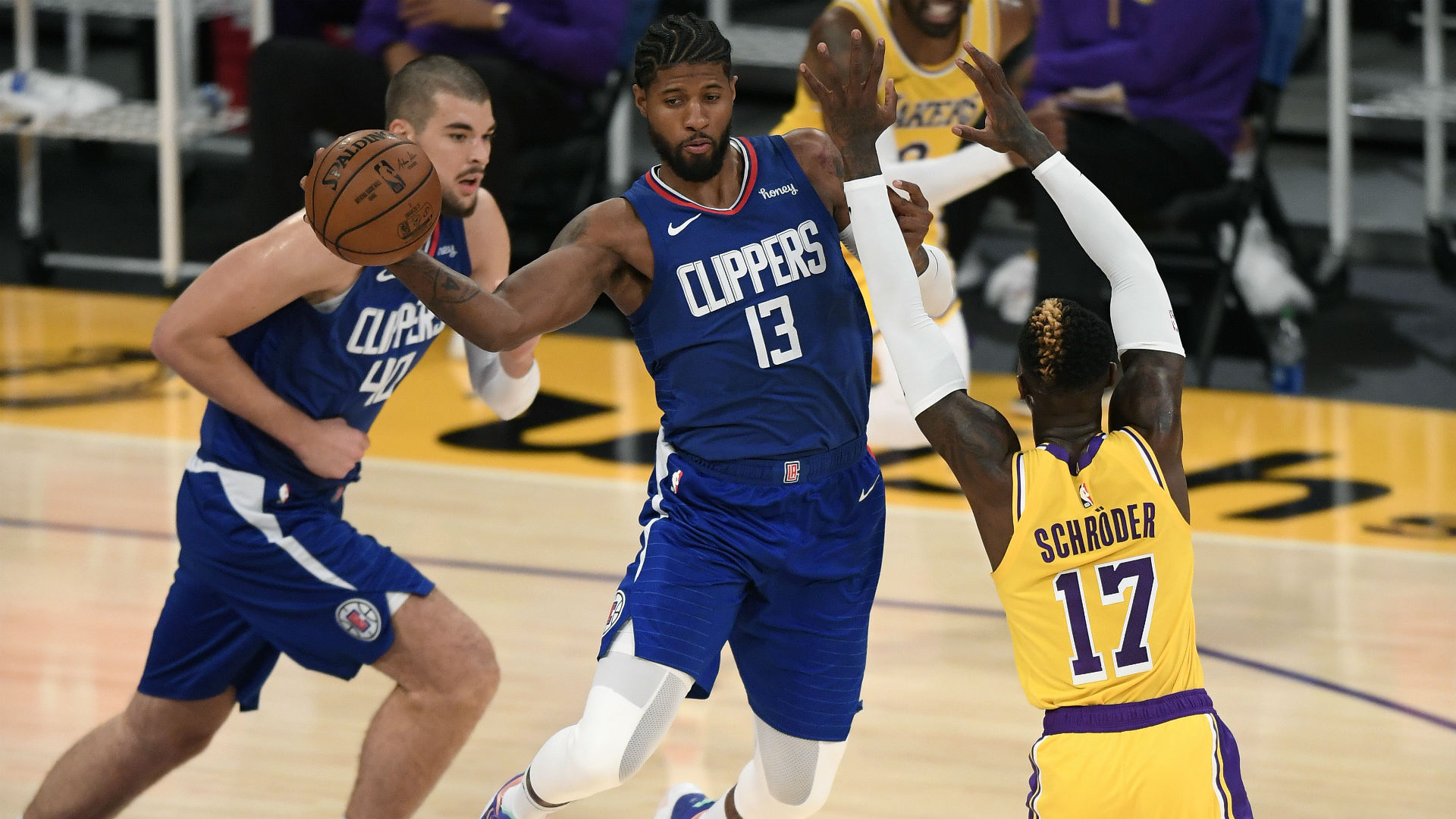 The Clippers weren't interested in letting the Lakers' championship celebration extend beyond their ring ceremony.
Paul George (33 points, 13-of-18 shooting) and Kawhi Leonard (26 points) guided the Clippers to a 116-109 victory over the Lakers in the second game of the NBA's Opening Night doubleheader. The Clippers saw their 22-point lead dwindle to just two before halftime, but George's steady scoring in the second half ensured they would start the new season 1-0.
"I just allowed the game to come to me. I thought I put a lot of just pressure on myself to score (in the first half)," George said during his postgame interview on TNT. "I got into a good rhythm of making plays for the team. That's how I play. That's how I catch fire. I let the game come to me. I took the shots when they were available. I didn't press for shots. I thought that was the biggest thing. I didn't press for shots."
Lakers stars LeBron James (22 points, five assists, five rebounds) and Anthony Davis (18 points, seven rebounds) each played fewer than 32 minutes in the loss. Former Clippers forward Montrezl Harrell totaled 17 points, 10 rebounds and three assists in his Lakers debut.
Sporting News provided live scoring updates and highlights from Lakers vs. Clippers. Check out all of the highlights you missed right here.
MORE: Sporting News' predictions for 2020-21 NBA season
Lakers vs. Clippers score
| | | | | | |
| --- | --- | --- | --- | --- | --- |
| | Q1 | Q2 | Q3 | Q4 | Score |
| Lakers | 19 | 35 | 24 | 31 | 109 |
| Clippers | 39 | 17 | 33 | 27 | 116 |
Lakers vs. Clippers live updates, highlights
(All times Eastern)
Final: Clippers 116, Lakers 109
12:35 a.m. — The Clippers take Round 1 in the battle for Los Angeles. We won't see these teams face off again until the second half of the NBA schedule is released.
12:25 a.m. — Paul George is ON FIRE. He's up to 31 points on 12-of-17 shooting.
12:20 a.m. — Good news: Kentavious Caldwell-Pope is back on the floor. He took a hard hit on a screen by Ivica Zubac, but he is no longer limping.
12:15 a.m. — Uh oh. Kentavious Caldwell-Pope is limping back to the bench. He appears to be grabbing his lower left leg.
12:10 a.m. — That classic LeBron James spin move is a thing of beauty.
End of third quarter: Clippers 89, Lakers 78
12 a.m. — Paul George rattles off 10 straight points and pushes the Clippers' lead to 11 ahead of the final frame. George and Kawhi Leonard each have 22 points.
11:50 p.m. — If Patrick Beverley is telling you to challenge the call, you probably shouldn't challenge that call.
11:40 p.m. — A rough debut for Lakers center Marc Gasol, who has not taken a shot in 12 minutes of action. He leaves the game after picking up his fifth foul.
11:35 p.m. — Insert obligatory Year 18 comment.
Halftime: Clippers 56, Lakers 54
11:15 p.m. — Well, that 20-point cushion disappeared in a hurry. (Go ahead. Make your Clippers jokes).
11 p.m. — Kawhi Leonard is familiar with the circle button.
10:55 p.m. — Hey, there's some offense! Kentavious Caldwell-Pope caps off a 10-0 Lakers run with a 3-pointer, forcing Clippers coach Tyronn Lue to call a timeout.
10:50 p.m. — Both teams have been a little sloppy with the ball so far. The Lakers and Clippers have combined for 20 turnovers, and there are still six minutes remaining in the first half.
End of first quarter: Clippers 39, Lakers 19
10:35 p.m. — The Clippers are cooking a lethargic Lakers defense. They shot 70 percent from the field and 50 percent from 3-point range in the first quarter.
10:25 p.m. — A hot start for Serge Ibaka. The Clippers big man has hit three of his first four field goal attempts and leads all scorers with eight points.
10:15 p.m. — Anthony Davis … still good at basketball.
10:10 p.m. — And here we go. Clippers guard Patrick Beverley scores the first bucket of the game.
9:45 p.m. — The Lakers get their 2020 NBA championship rings. Look at the size of that bad boy.
9:20 p.m. — Speaking of starters, here's Tyronn Lue's Opening Night lineup.
Clippers' starters, per Ty Lue:

Serge Ibaka
Nicolas Batum
Kawhi Leonard
Paul George
Patrick Beverley

— Jovan Buha (@jovanbuha) December 23, 2020
9:10 p.m. — Dennis Schroder wanted to be the Lakers' starting point guard. Frank Vogel granted his wish.
The Lakers will start Dennis Schroder, last season's runner-up for the Sixth Man of the Year, at point guard in the season opener tonight against the Clippers, sources tell ESPN.

— Dave McMenamin (@mcten) December 23, 2020
NBA schedule 2020
Tuesday, Dec. 22
| | | |
| --- | --- | --- |
| Game | Time (ET) | National TV |
| Warriors vs. Nets | 7 p.m. | TNT |
| Clippers vs. Lakers | 10 p.m. | TNT |
Wednesday, Dec. 23
| | | |
| --- | --- | --- |
| Game | Time (ET) | National TV |
| Hornets vs. Cavaliers | 7 p.m. | — |
| Knicks vs. Pacers | 7 p.m. | — |
| Heat vs. Magic | 7 p.m. | — |
| Wizards vs. 76ers | 7 p.m. | — |
| Bucks vs. Celtics | 7:30 p.m. | TNT |
| Pelicans vs. Raptors | 7:30 p.m. | — |
| Hawks vs. Bulls | 8 p.m. | — |
| Thunder vs. Rockets | 8 p.m. | — |
| Spurs vs. Grizzlies | 8 p.m. | — |
| Pistons vs. Timberwolves | 8 p.m. | — |
| Kings vs. Nuggets | 9 p.m. | — |
| Jazz vs. Trail Blazers | 10 p.m. | — |
| Mavericks vs. Suns | 10:30 p.m. | ESPN |
Friday, Dec. 25 (Christmas Day)
| | | |
| --- | --- | --- |
| Game | Time (ET) | National TV |
| Pelicans vs. Heat | Noon | ESPN |
| Warriors vs. Bucks | 2:30 p.m. | ABC |
| Nets vs. Celtics | 5 p.m. | ABC |
| Mavericks vs. Lakers | 8 p.m. | ABC/ESPN |
| Clippers vs. Nuggets | 10:30 p.m. | ABC |